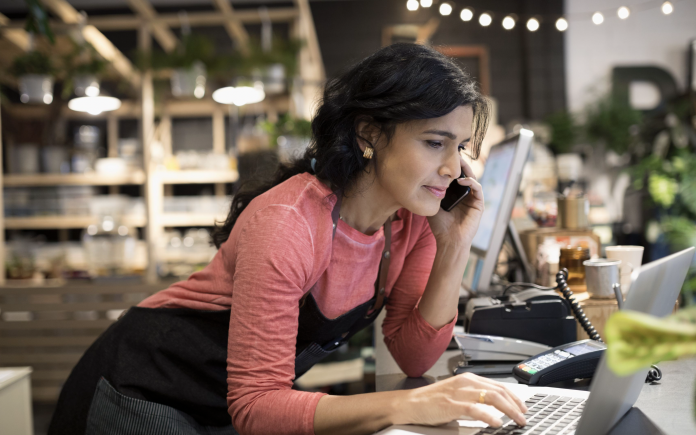 Small business owners are facing unprecedented times and have struggled to stay afloat in the recent economic downturn. High inflation, a tight labor market, and ongoing post-pandemic recovery have created new challenges for entrepreneurs. Fortunately, support and resources are available to help small businesses not only keep the doors open but hopefully grow and thrive, even amid a struggling economy. 
Amazon is taking steps to bolster the success of small business entrepreneurs by offering grants to businesses in need and providing access to numerous tools, resources, and publicity.  
Amazon Offers $250,000 in Grants to Small Businesses  
Amazon recognizes September as Small Business Month, and at its first official event for the occasion, announced it is launching a new grant program to support small businesses across the country. 
The Small Business Grant program will offer more than $250,000 in grants to small businesses. To qualify, ventures must have annual revenues of less than $1 million and be existing Amazon Business customers. Businesses who apply for the grants will be asked to answer a series of questions, including:   
Why did you start your business?  

What is your business's mission or vision?  

How does your business innovate or add value for your customers?  

How would receiving the grant help you?  

What is a significant problem your company faced, and how did you persevere?  

How does your business give back to the community?  
Prize Packages Include Cash, Services, and More  
The Amazon Small Business Grant Program will award prize packages to 15 semifinalists chosen from the applicant pool. The prize packages include cash grants that can be used for any purpose deemed necessary by the business with no restrictions, plus a plethora of valuable resources, training, and Amazon service credits, as well as a Ring Deluxe security kit.   
The grand prize winner will receive a $25,000 grant, one year of Amazon Business Prime membership, Amazon Web Service credits and training valued at $32,000, and a Ring Deluxe security kit.  
Four other finalists will receive a $20,000 grant, one year of Amazon Business Prime membership, a Ring security kit, and Amazon credits and training benefits valued at $3,000.   
Ten semifinalists will earn grants of $15,000, one year of Amazon Business Prime membership, a Ring security kit, and credits and training benefits valued at $1,700.  
Winners will also receive additional press and marketing opportunities as part of their prize package, which can be invaluable for small businesses.   
Amazon and Entrepreneur.com will work together to select the 15 semifinalists, who will then be featured on Amazon Business. Customers of Amazon Business will vote for the winners between October 10 to 20. Winners will be notified by email, and the list of finalists will be officially announced on October 25.   
Amazon Business Supports Entrepreneurs  
Amazon has publicized its goal to empower small business owners and entrepreneurs. Business Account owners receive Prime shipping on certain products, bulk order savings, and options for organizing groups and locations within a business.
"Amazon Business is invested in the success of small business customers," said Todd Heimes, Small Business Director of Amazon Business. "When they grow, we grow, which enables us to increase selection, reduce prices, and add additional features and benefits, all of which are important to small business owners."
"These entrepreneurs face unique challenges and circumstances, and we're here to be a partner in their continued success," Heimes added.   
Small Business Month – Highlighting the Backbone of the Economy
Small businesses make up the vast majority of the economy in the United States. Still, owners face unique challenges that are often hard to overcome. Large corporations and companies have weathered the pandemic through large operating budgets and extra cushion to endure shutdowns. Meanwhile, small businesses have been hit the hardest, with many closing their doors permanently.
Amazon's Small Business Month initiative seeks to pull small business owners out of hardship by focusing on growth, support, and awareness. The initiative will include events, educational activities, and savings deals on resources and tools for small business owners.
The event officially launched during the company's Small Business Summit on September 8. The summit was held virtually and included a collection of entrepreneurs, authors, and Amazon Business leaders offering advice and insight into their success. Content from the event is available to all entrepreneurs throughout the month of September on its website.
Amazon also offered what they dubbed "Small Business Deals Week" between September 12-18. The promotion included discounted pricing for Amazon Business members on various resources, including PCs, office furniture, products, and tech devices.
How to Apply  
Applicants must be existing Amazon Business customers to qualify. The good news is that companies can sign up for an Amazon Business account before the September 30 deadline if they wish to apply and still be considered.
Applications are available online on the Amazon Business website, and information on terms and conditions for businesses hoping for a slice of the cash.
---
The Atlanta Small Business Network, from start-up to success, we are your go-to resource for small business news, expert advice, information, and event coverage.
While you're here, don't forget to subscribe to our email newsletter for all the latest business news know-how from Atlanta Small Business Network.