On this week's episode of the Atlanta Small Business Profile, our host, Ted Jenkin, talks with Clint Crowe, Co-founder of Elite Event Rental.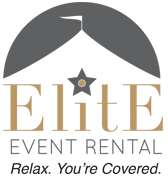 While Clint was completing college, he noticed that a lot of his classmates were graduating without the proper skill sets they would need in the workforce. However, in the entrepreneurship programs offered by Kennesaw State, UGA, and Georgia State (to name a few), Clint found that the material was a lot more relevant and practical for today's job market. In order to graduate, Clint says that you even have to open a licensed LLC. One of his biggest accomplishments at school was developing the tent business. He says that once you have the entrepreneurial mindset down, the other facets of business come easier.
Even though Elite Events Rentals is not the only temporary event space provider in Georgia, they have certainly made a name for themselves. Elite specializes in the installation and removal of tents, tables, chairs, stages, dancefloors, and other event equipment for event planners and hosts. The company serves the metro Atlanta area and other locations all over the southeast. Clint admits that while there might not be a whole lot of distinction between the products that Elite and their competitors provide, they have been able to acquire a larger market share due to their customer service and experience. Clint says that Elite is in a very sweet spot of having the product selection of a larger company, but the personal attention of a smaller one.
While weddings make up the bulk of Elite's revenue, their biggest event is Atlanta's annual Imagine Music Festival which has over 30,000 attendants. To find out more about Clint and the other two businesses he has started, be sure to watch our full interview above.
---
The Atlanta Small Business Network, from start-up to success, we are your go-to resource for small business news, information, resources.

Follow us on Facebook here and stay up to date or catch-up on all our podcasts on demand.
While you're here, don't forget to subscribe to our email newsletter for all the latest business news know-how from Atlanta Small Business Network.
This has been a JBF Business Media production.