Having a board of directors plays a significant part in your company's success. They assist in determining an organization's future, guaranteeing its longevity, and maintaining its direction and focus on its mission and goals. Joining us on the Atlanta Small Business Show to discuss this topic further is George Deeb, Managing Partner at Red Rocket Ventures, Forbes contributor, and author of three entrepreneurial handbooks.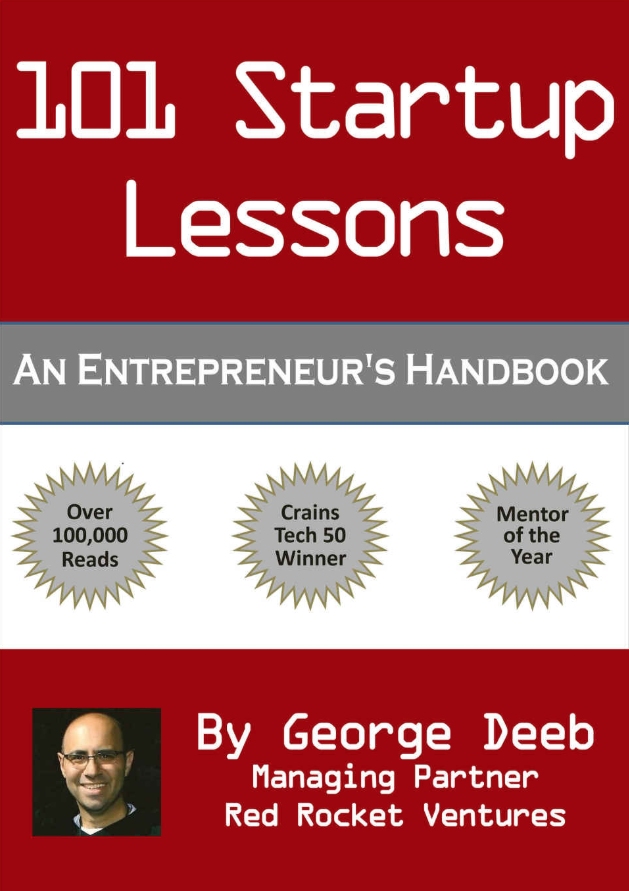 Transcription:
Jim Fitzpatrick:
George, for joining us once again on the show.
George Deeb:
Hey Jim, it's great to be here.
Jim Fitzpatrick:
Sure. So for those people out there that are not as familiar with what the board of directors is in a company, describe a board of directors for a company.
George Deeb:
Yeah, for sure. And I want to make the distinction between what a board of directors is and what an advisory board is, because they're really two different things. The board of directors are the group of people that are managing all the key voting decisions of the business, and they're the ones responsible for managing the CEO. They're basically the boss of the CEO.
Jim Fitzpatrick:
Okay.
George Deeb:
And an advisory board is more informal, no real key voting decisions. They're there to just help mentor and guide the CEO on any skill sets that the business needs that maybe that CEO doesn't have within their own skill sets, so it is a little bit more informal and a little bit more consultative.
Jim Fitzpatrick:
Okay. Do you need both, in your opinion?
George Deeb:
Yeah, I don't think you need both. I mean, every business has its own different rhythm. Some people do have two, but most companies either have one or the other. It all depends on what your equity ownership is and what control you want to put into the hands of third parties.
Jim Fitzpatrick:
Right. Right, so how do you structure a board of directors?
George Deeb:
Well, first of all, because there's voting involved, you want to have an odd number of members, so it's usually a five person board or seven person board. I don't usually see more than a nine person board, depends on how big the company is. But you want to make sure that the positions filled on the board are done so in a pro-rata basis based on your equity ownership. So let's say an investor owns 20% of the company and you have a five person board of directors, one of those five seats will be in the hands of that investor. You want to make sure that the voting interests and the voice of the boardroom table is in alignment with the equity ownership.
George Deeb:
The other key variable here is you want their smarts, right? You want somebody that's actually going to do some work and be friendly to your vision and that help you move it along, that's not just going to sit there and just be a naysayer, is going to actually do some work and help move the company forward.
Jim Fitzpatrick:
Or a yes man, right?
George Deeb:
Sure.
Jim Fitzpatrick:
Or a yes person that just says, "Oh yeah. Sounds good to me," right?
George Deeb:
Yeah. I mean, most entrepreneurs would love a yes man, because they're just basically supporting your own vision as CEO, but sometimes the CEO needs help. Someone needs to tell them, when the bus is about ready to drive off the cliff, it's time to turn the steering wheel. That voice needs to be at the table to mentor them.
Jim Fitzpatrick:
That's right. That's right. I guess there's such a thing as a non-voting board, where the CEO says, "I'm going to offer some of my company for sale, however, if you buy into the company, you don't get voting shares. You could be on the board of directors, and you can advise me, but there's not going to be a vote on major issues," and the CEO, or the founder of the company, has really all the say, right?
George Deeb:
Yeah. Most professional investors won't sign up for that. If they're putting their hard earned cash behind this business, they're going to want to have real voting shares at the table.
Jim Fitzpatrick:
Sure.
George Deeb:
And more times than not, they're going to want super voting shares around the table to make sure they can really control the key business decisions of the company. The only time a CEO or a business can prevent that from happening is if a business is wildly successful and the investor wants to come in and just ride the economics, wants to just get in and let the company do its thing and then get an economic return and they don't really necessarily need that vote around the table. That has happened in times. I think we remember, I think it was WeWork, was one of the big unicorn startups that the founder of the business had super voting shares and controlled all the major business decisions, even though there was important investors around the table.
Jim Fitzpatrick:
Yeah, for sure. So the more the money that somebody invests, do they get more of a share of the vote? Is that typically how that works? If there's five investors in the business or five board members of which all were investors, I invested a million, but you only invested a hundred thousand, do I get more of a percentage of that vote than you?
George Deeb:
The vote at the shareholder level when there's any big vote takes place, what you just said on a pro-rata basis will actually happen. So the guy with the million dollar investment that got a million shares will have more vote than the guy that had a hundred thousand investment with a hundred thousand shares. But at the board level, let's say that that investment, that $1.1 million investment made up 20% of the company, well, the CEO of the business may only give up one seat at the board table, and most likely the biggest of the newer investors will get that seat at the table. So that minority investor with a hundred thousand investment will not have a seat at the board table, but the big million dollar check cutter will.
Jim Fitzpatrick:
Okay. Gotcha. What should the frequency of the board meetings be? Is it something done every month? Is it done every two weeks? Is it done quarterly? What does that look like?
George Deeb:
Yeah, I think it's a function of where the company is in its stage of development. An early stage business that needs a lot of help and it's still figuring things out will have a more frequent pace of meetings. Maybe it's monthly, once a month. A business that's later stage and it's got its processes figured out and it's scaling revenues and things are largely going to plan, that business will maybe meet quarterly, once every three months. So it's a function of how much work there is to get done and where they are in their development.
Jim Fitzpatrick:
Sure. Is it safe to assume that the CEO is always on the board?
George Deeb:
Yes. In most cases, right. In most early stage businesses, the CEO is the founder. He'll have the largest percentage ownership in the company and will have one of the voices at the table, especially in an early round. A CEO might still own 70% of the company and should control 70% of the voice around the table-
Jim Fitzpatrick:
Okay.
George Deeb:
… where his voice will be the loudest voice heard and he may fill in a couple of other seats with friendly outsider, third party influencers that he wants to have on the board. As the company scales, as it raises its fourth, fifth round of venture capital, now it's a multi-billion dollar success and that founder may only have a 8% stake at the table. They may or may not have a board position at that point. Maybe the CEO has been outgrown at that point, the founder, and there's a new CEO that's running the company and the new CEO may have a board seat, instead of the original founder, so to function to where the company is in its development curve.
Jim Fitzpatrick:
Is there usually someone at that level on the board that's been appointed to work directly with the CEO, so they don't have nine people calling them?
George Deeb:
Yeah. I mean, at the end of the day, if you think about the CEO's role within the company, the CEO needs to implement the vision of the board.
Jim Fitzpatrick:
Right.
George Deeb:
Right? And the board has multiple stakeholders, multiple voices being heard, and he or she has got to siphon through all of that, all that clutter and build a business around that, so usually everybody at the board table has an equal voice in the board room when they're being discussions taken place, and the CEO needs to listen to all of those and whatever votes come out of that, that's the direction the company goes. So it's a function of listening to everybody and making sure everybody's in alignment based on the votes that come out of any key decision.
Jim Fitzpatrick:
How do you compensate board members?
George Deeb:
Well, if you're a founder and you have a material stake, or if you're a big investor and you have a material stake, those guys aren't necessarily looking for cash compensation. They've already got their compensation in the form of a big equity state.
Jim Fitzpatrick:
Okay.
George Deeb:
But if you're bringing in a third party, some non-biased outsider, that you want to attract to the business and you want to compensate them, then that's more typical to pay them for their time. And you can either pay them in the form of cash, maybe $2500, maybe $5000 per meeting, or maybe it's in equity. Maybe you're giving them 1% ownership in the company for their involvement in the board. So I've seen it with cash only. I've seen it with equity only. I've seen it with part cash, part equity. It depends on what the budgets are of the company and how big of a swinger that board member is that you want to bring in and how well you need to compensate them to get them on your board.
Jim Fitzpatrick:
Right. And the bigger the name, the more that company's going to be taken seriously out there in the investment community and just in their overall effort to even garner clients, right?
George Deeb:
Yeah, absolutely. That's another advantage of putting your board together is the brand cache of the person that's on your board.
Jim Fitzpatrick:
Yeah.
George Deeb:
Right, if you're a tech startup and tech entrepreneur, like, I don't know, Mark Zuckerberg, or Larry Page or whoever it is, is on your board, that's going to carry a lot of weight. It'll help you with experience and how to build a company. It'll help you with relationships to investors. It'll help you with just the brand association that they bring to your company.
Jim Fitzpatrick:
Sure. The brand Theranos, I think it was, where the young lady put together this company, basically it was a blood testing thing, and obviously very popular story. I think there was a Netflix movie made out of it and such, but in her situation, she put together this incredible board of directors, so I think it helped her with this con to Wall Street to say, "Hey, we've got General Shultz and all these different past generals and White House officials from the Reagan administration and such," I think even Kissinger was on the board, but I think a lot of people were so impressed with that they threw money at this young lady to say, "oh, well, we're going to invest with you," right? I mean, obviously that's an abuse of that, but it just goes to show you how important putting together a board is, and who's on it.
George Deeb:
Yeah, for sure. I think that was Elizabeth Holmes.
Jim Fitzpatrick:
Yeah. Elizabeth Holmes.
George Deeb:
That show on television was fantastic. I really enjoyed watching that. But what you just said is exactly right, that those investors would not be throwing her money unless all the brand name venture capital was lined up, all the brand name board members were lined up and they said, "Well, if all these smart guys are involved, this must be the hot new thing, and I want in just because of them.
Jim Fitzpatrick:
That's right. That's right.
George Deeb:
For sure.
Jim Fitzpatrick:
All you need is the first big name, I guess, and then all the others go, "Well, if you got him or her, then I'll jump on," and then nobody checked out anything it seems, right?
George Deeb:
Yeah, for sure. Success attracts success.
Jim Fitzpatrick:
That's right. That's right. Well, George Deeb, thank you so much for joining us today on the show. I know that a lot of entrepreneurs out there are right on the threshold of trying to put a board together. They're in that phase right now of funding, where it's time to take your business seriously, and many times, that's to enter into a situation where you've got a board of directors, so I know that what you've shared with us today is going to go a long way with a lot of our viewers, so thank you very much for that. I'd love to have you back and talk more about these different issues.
George Deeb:
Okay. My pleasure, Jim. Good seeing you again.
Jim Fitzpatrick:
Great. You too. Thanks.
---
The Atlanta Small Business Network, from start-up to success, we are your go-to resource for small business news, expert advice, information, and event coverage.
While you're here, don't forget to subscribe to our email newsletter for all the latest business news know-how from Atlanta Small Business Network.