Atlanta is no longer just known as the stomping ground of old-school behemoths like CNN and Coca-Cola. The city has risen —much like its Phoenix mascot—to be a haven for creative startup owners and forward-thinking business professionals. Atlanta is the epicenter for commerce, innovation, shopping, and a growing technology sector in the southeast. So, without further ado, check out these ten innovative and creative companies making their mark in Atlanta. They are all unique, and most below have started within the past five or so years.
Community Bucket – Social Outings While Doing Good
Location: All over Atlanta – Depending on the Event
Why It's Innovative: Community Bucket fulfills two desires in the hearts of many millennial Atlantans: how to do good while making meaningful social connections. From these two ideas, Community Bucket was born. The organization partners with local nonprofits to host groups of volunteers to address issues ranging from homelessness to neighborhood development. After the event, volunteers can network at a local Atlanta restaurant or brewery.

TopTime Coffee – Mixing Science with a Cup of Coffee
Location: 801 Ferst Dr. NW
Why It's Innovative: Who knew that scientific principles could produce such fresh and immaculate coffee? Nolan Hall, an engineering student at Georgia Tech, begin a research project into how he could deliver fresh and aromatic coffee affordably (sans the expensive pricing of a typical coffee roaster). Not only did he figure it out, but he decided to share his good-tasting results with the world by opening TopTime Coffee. He and his team change the temperate of coffee beans during the roast to bring out the best taste. Hall is even planning to open a second location and teach customers about the roasting process.
Bytes – A Modern and Technology-Driven Dining Experience
Location: 848 Spring St. NW, Suite A
Why It's Innovative: The Georgia Tech area is at it again, but this time the focus has shifted from coffee to food. Bytes is a new restaurant bringing a "technology-infused" dining experience to hungry Atlantans. Restaurant-goers can efficiently order their food on iPads, have access to news coverage from multiple stations on large flat screen televisions, and sit in LED-lighted chairs in a tranquil grassy area right outside the restaurant. Bytes puts a modern spin on classic cuisines that include pizza, burgers, and even milkshakes. Techies will love the innovation in ordering and sleek décor.
Little Star Provisions – West-Elm Meets The General Muir
Location: 1198 Howell Mill Rd.
Why It's Innovative: What do you get when you mix West Elm, a fresh deli, and a coffee shop? The answer seems to be Star Provisions.  Visitors can grab fresh baked goods, cheeses, various meats, and a rich roasted coffee while also stocking up on some beautifully-crafted kitchenware. This place is an all-in-one for those who are inspired to add new décor to their home after grabbing some delectable treats. This particular location serves breakfast all day for those who can't turn down a croissant after 11:00 am.
Bark – A Digital Safety Net for Parents Monitoring Cyberbullying
Location: Online, but based in Atlanta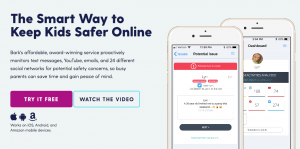 Why It's Innovative: Cyberbullying and online harassment have had a negative impact on children across the country. Bark is looking to fix this problem by helping parents intelligently monitor what their children are doing online. Parents can connect to 24 platforms to track text messages, emails, and social activity for potentially harmful interactions. Parents can then receive alerts or text messages based on Bark's algorithm that notify parents of conversations their children are having that they should be aware of. It is a way for parents to have another back-up in helping prevent and address cyberbullying. One parent was able to catch that their son was having thoughts of self-harm, and the system helped the parent set up the support their child needed.
Civil Bikes – Atlanta Tours Enriched with History
Location: Tours throughout downtown Atlanta
Why It's Innovative: Have you ever wanted to take a tour of a city that didn't just include the usual museums or landmarks, but gave you a more in-depth look into the history and heart of the location? Well, Civil Bikes looks to fulfill that need. Civil Bikes takes Atlanta citizens and visitors on a comprehensive tour of the city's most famous Civil War battles and Civil Rights locations. It is a portable and ever-moving history lesson of the city that has "risen through the ashes." Tours will also take participants through Atlanta's public art areas, green spaces, and the location of once-standing prominent buildings. The organization "collaborates with a variety of communities and organizations to bring a fuller image of what Atlanta is both historically and in the present." Participants can choose from a variety of tours that can take them through various parts of the city depending on which personality of Atlanta they want to learn more about.
Staplehouse – A Dining Experience that Gives Back in a Huge Way
Location: 541 Edgewood Ave. SE
Why It's Innovative: Husband and wife team Chef Ryan and Jen Hidinger started Staplehouse, an underground supper club where they shared dinners with friends and family. Their endeavor of passion became a reality when her husband's employer offered to support the development of Staplehouse into a full-scale restaurant. As she moved into the further development of Staplehouse, tragically, her husband passed away from cancer. Hidinger kept on to not only fully develop Staplehouse, but to also created The Giving Kitchen, an organization that provides emergency-assistance grants to Metro Atlanta restaurant workers that experience hardships. All proceeds from Staplehouse go to funding the mission of The Giving Kitchen.
The Beehive – A Haven for Local Entrepreneurs
Location: 1250 Caroline St NE
Why It's Innovative: Billed as the first Atlanta boutique with a sole focus on the local entrepreneur, The Beehive is a store that houses products from independent designers located in the Metro Atlanta area. The Beehive offers apparel, housewares, baby goods, food, and even jewelry to its clientele. Not only can local designers use The Beehive to sell their products and reach out to the local community, but they can also gain support and educational services from local entrepreneurial peers. Customers can attend arts and craft workshops while vendors that use the facility can use it as a storefront and even host trunks shows. If you are looking to support local businesses, The Beehive is an excellent place to visit.
Flexdrive – A Flexible Subscription Car-Driving Service
Location: Online, but based in Atlanta
Why It's Innovative: The idea of car ownership is changing, with the advent of ride-sharing companies like Lyft and Uber, and some are reconsidering their need to own a car. Enter Flexdrive, an Atlanta-based company offering car subscriptions. Subscribers can sign-up and use cars for either seven or 28 days at a time. All subscriptions come with insurance, maintenance, and roadside assistance offerings, so subscribers do not have to worry about a lack of support if anything were to go wrong. Meeting a few criteria points, a $250 deposit, and an app download sets subscribers up to begin reserving cars that they need without the hassle of loans or paperwork.
iSimu VR – A Modern Take on the Old-School Arcade
Location: 3064 Old Norcross Rd, Suite 100, Duluth, GA 30096
Why It's Innovative: The last entry on this list is outside of the city limits of Atlanta, but with its inclusion in the Metro Atlanta area, it is worth a visit. Virtual reality has been a growing area of entertainment technology. For those who are on the fence about purchasing a VR machine or those who want a modern arcade experience, they can visit iSimu VR. iSimu VR is a virtual reality arcade that puts gamers right into the action. Players can take turns on games like Fruit Ninja VR, Island 359, Google VR, and many others. Gamers can bring family and friends for multiplayer action, and have a library of over 40 games to choose from. If you are looking for a modern and immersive arcade experience, iSimu VR is an excellent option.
Image: http://www.starprovisions.com/eat/