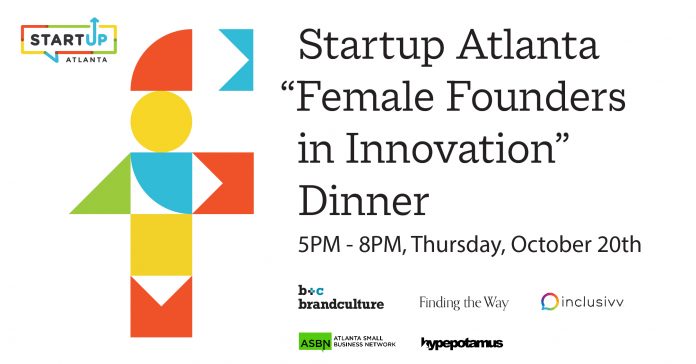 Atlanta, GA, 10/8/2022 – Women and entrepreneurs of color are leading a boom in new business creation in the United States. In fact, about half of U.S. start-ups in 2021 were formed by women, up from 28% in 2019. In the U.S Southeast, Georgia is leading this trend, ranking 8th for Most Female Business Owners. Today, our state is home to about 40,000 women-owned businesses (22.1%), responsible for 300,000+ jobs.  
Yet, men still outnumber women 3:1 when it comes to business ownership, and women's entrepreneurial experiences look different than men's. Notably, fields like health care and social and food services tend to have higher proportions of women-owned businesses. In turn, women are disproportionally underrepresented in tech and innovation fields. 
To celebrate our achievements, the strides we are making, and the obstacles we overcome every day, Startup Atlanta is hosting a "Female Founders In Innovation" Dinner. The event will take place at 5 p.m. on October 20th at Aftercar with the support of Brand Culture and Inclusivv. 
"Women everywhere are starting their own companies, changing the nature of business and changing the world. But we still live in a society where women entrepreneurs face a range of challenges and barriers that men often don't," said Inclusivv Founder Jenn Graham. "This dinner aims at providing female founders with a space for us to share our stories, successes, and challenges, and explore how we can show up for one another." 
"Women have time and again proven that they are integral to leading high performing organizations," added BrandCulture Co-founder Jon Hutson. "At BrandCulture, we are committed to playing a pivotal role in supporting a thriving and inclusive innovation ecosystem in the region with our partners." 
The event gathered many supporters, including the Women Entrepreneurship Initiative (WEI), Finding the Way, Dr. Noze, Techstars Atlanta, IT All Media, Boomtown Accelerators, Atlanta Ventures, Geekz Ventures, and Atlanta Small Business Network. Hypepotamus has also joined forces as the official media partner. 
"It's so vitally important for Atlanta's community of female founders to support one another and lift each other up," said Atlanta Small Business Network Co-Founder Bridget Fitzpatrick, one of the dinner's featured speakers. "The Female Founders In Innovation dinner is a great opportunity to do just that," said Fitzpatrick.
"Women face particular challenges when launching and growing their businesses. After two years of a global pandemic, it's more timely than ever to offer a place for meaningful dialogue and relationships," concluded Startup Atlanta President and Board of Directors Jen Singh. "As such, we look forward to hosting our growing community of tech female founders." 
The free event is open to the media, women founders, and community supporters.

To register: https://app.inclusivv.co/female-founders/conversations/5560.

For media inquiries: claire.angelle@brandculture.com.  
—–
About Startup Atlanta – Startup Atlanta is a community non-profit focused on connecting, growing and promoting the Metro Atlanta Startup Ecosystem. We publish the Guide to the Startup Ecosystem, host the  Atlanta Startup Awards and promote activities throughout the region. To learn more, visit  startupatlanta.com.  
About Brand Culture – Founded in 2006, BrandCulture is a performance-led brand and organizational growth consultancy. We work with ambitious leaders to define brand strategies, build strong cultures,  execute integrated marketing programs and enable sales teams to accelerate growth. With offices in  Atlanta, Los Angeles and Barcelona, BrandCulture pioneered the concept of Shared Purpose, integrating branding and culture development to help organizations drive measurable, meaningful and sustainable business performance. To learn more, visit brandculture.com.  
About Finding The Way – In this fictional account of an entrepreneur's rollercoaster ride to the top, Cap  Treeger crafts a series of dynamic, well-drawn lessons for anyone craving a career in the tech startup industry. The hero of the story, Ren, guides readers through factors necessary for success, including building a solid team with strategic placement of individuals in roles appropriate to their skill sets and crafting the all-important business model. 
About Inclusivv – Inclusivv is an engagement platform designed to help companies, universities, and  communities increase understanding and collective action around important societal and environmental challenges. To learn more, visit inclusivv.co.
---
The Atlanta Small Business Network, from start-up to success, we are your go-to resource for small business news, expert advice, information, and event coverage.
While you're here, don't forget to subscribe to our email newsletter for all the latest business news know-how from Atlanta Small Business Network.