Business ownership has flourished within the Black community in recent years. The most recent data revealed that the number of Black-owned businesses grew 34 percent from 2007 to 2012. While business ownership is always an excellent way for communities to gain wealth, this data, unfortunately, doesn't tell the whole story. 
Lack of capital and cash flow are some of the most significant hurdles for Black business owners. Many do not receive financing options at financial institutions, and of those that do, they qualify for lower amounts with higher interest rates. 
This reality, combined with the adverse impact of the COVID-19 outbreak on most businesses, especially Black-owned small businesses, has proved to be a critical challenge. 
In the wake of increased protest for racial equality, there has been a call for systemic change, especially when it comes to the support of Black-owned businesses. This spotlight on economic sustainability has resulted in notable people and organizations stepping in to bridge the gap. 
NAACP and Beyonce Join Forces for BeyGOOD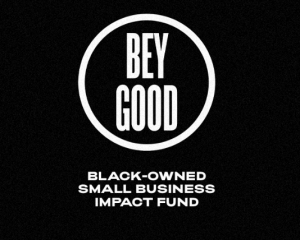 In 2013, Beyonce founded BeyGOOD, a global charitable initiative to address issues related to education, global poverty, and economic empowerment. This year, BeyGOOD has partnered with the NAACP to develop the Black-Owned Small Business Impact Fund. The goal of this program is to provide $10,000 in funding to Black-owned small businesses whose storefront experienced any physical damage due to the recent uprisings and protests. These grants can help these companies rebuild and thrive economically. 
Black-Owned Businesses in Select Cities are Eligible
For applicants to be eligible for the $10,000, they have to be a "black-owned small business owner," and "provide a property damage or replacement estimate." Also, applicants have to be from Houston, Atlanta, New York, Los Angeles, and Minneapolis. It makes sense that these areas would be the focus of the program. All five have significantly been impacted by rising COVID-19 infection rates and intense protests. 
The Application Cycle is Now Open
Applications for this program are currently open until July 18th. According to the NAACP website, applications will be reviewed from July 20th to the 29th. The winner's names will be announced on Beyonce.com on July 31st. This program is not the only initiative that BeyGOOD has participated in to empower Black-owned businesses or offer support during the COVID-19 outbreak. In honor of Juneteenth, BeyGOOD's The Black Parade Route website housed a directory of Black-owned companies throughout various sectors. Beyonce has also partnered with Twitter's CEO, Jack Dorsey, to pledge $6 million for organizations managing the coronavirus outbreak. 
Support for Black-Owned Businesses Can Have a Larger Impact on the Economy
According to SCORE, 44 percent of Black small business owners use cash to fund their businesses, a higher amount than other groups (37 percent). This group of entrepreneurs doesn't typically have funding mediums like venture capital, financing from financial institutions, or family and friends' help to fall back on. Opportunities like the one presented by BeyGOOD and NAACP can help offer a boost by stepping in to fill the funding gap that Black-owned businesses experience. 
This move not only helps Black entrepreneurs, but their economic success adds to the overall health of the nation's economy. A recent survey by Fitsmallbusiness.com revealed that 39 percent of respondents believe that the U.S. economy would be in a better position if there were more opportunities for Black entrepreneurs. 
If you would like to learn more about the Black-Owned Business Impact Fund or are ready to apply: visit NAACP.org. 
---
The Atlanta Small Business Network, from start-up to success, we are your go-to resource for small business news, information, resources.
Follow us on Facebook here and stay up to date or catch-up on all our podcasts on demand.
While you're here, don't forget to subscribe to our email newsletter for all the latest business news know-how from Atlanta Small Business Network.