Are you thinking about starting a business but need help figuring out where to start? The best advice from many business owners is to start with something you love. But even with that advice, it can be hard to visualize building a business from nothing and growing it into a successful venture. That's why franchise ownership is a great place to start for entrepreneurs who feel like they have what it takes but might appreciate some support along the way.
Buying a franchise is an excellent way to get your foot in the door of a market by aligning yourself with an already established brand with a dedicated customer base.
If you're a sports fan or exercise enthusiast, then we have even better news. The fitness industry is worth around $100 billion globally and has proven itself to be nearly recession-proof. There are numerous opportunities for future-franchise owners to create a profitable business that is ripe for success by leaning on the support of a brand that has already built a successful foundation.
In this article, we will outline why buying a franchise in Georgia is such a great idea, what to look for when choosing a franchise to get involved with, and share our list of the top 5 franchise opportunities in Georgia for sports and fitness fans.
Why choose franchising?  
Franchise businesses offer entrepreneurs an opportunity unlike any other. You get the benefit of an established business structure with proven results. You get to join a brand that has already established itself as credible and trustworthy. You get unmatched support from higher-ups, already forged connections, and a network of fellow franchise owners to call upon.
Franchise businesses get all of those benefits while still enjoying the autonomy of running the business the way you want – within reason. You're still a business owner with the freedom to operate your business how you see fit. You get additional support, a ready pool of loyal customers, and a hand-up in getting started. 
Why buy a franchise in Georgia?  
Georgia is the perfect location for franchise owners. You get a warm climate all year long and access to thriving population zones. The population is educated and diverse, meaning it will be easy to source and hire skilled employees. And the business landscape in Georgia is robust – and growing.
Georgia has a fairly low corporate tax rate and a low sales tax rate, making it cost-effective to operate a business. And the state itself offers assistance to small business owners in the form of tax relief, small business loan programs, and work-ready reimbursements.
You can learn more about how Georgia is supporting small businesses and franchises by visiting Georgia.org. You can also read up on franchise ownership at FTC.gov.
What to look for in a franchise business  
Not all franchises are created equal. Ensuring the best chance of success means examining certain factors, just like with any decision. Choosing a brand that has an established footprint in the market is important, as is aligning yourself with a market that is competitive and has great growth opportunities. Here is our best advice on what to look at before choosing a franchise.
The Financials – If you want to build a successful business that results in money landing in your pocket, you will want to look for a franchise that has a proven track record of financial success. Business markets fluctuate as the economy fluctuates, so make sure the franchise you choose has weathered changes before and managed to come out on top.
The Structure – Some franchises offer a base work of structure and support, leaving owners to figure the rest out on their own. Others provide a helping hand in nearly every aspect of the process – from the foundation up. Look for a franchise with a developed operational plan, offers access to already built systems and platforms, and includes ongoing training and education opportunities.
The Market – Choosing to enter into any business means taking a long, hard look at the market that the brand operates within. Is it a global brand with a customer base from a wide demographic? Or is it a micro-niche market that will require extra attention to marketing and customer acquisition? Choose a franchise, and a market, that has the best chance of success in relation to your particular location.
The Culture – It's crucial that you choose a franchise opportunity that excites and motivates you. Otherwise, you will quickly end up running out of steam and looking for the fastest way out. Business owners have the best chance of long-term success when they are building something they believe in, something they can stand behind, and something that brings them joy every day. 
Top 5 sports and fitness franchise opportunities in Georgia  
Franchises in the sports and fitness market will find a great home in Georgia, thanks to a favorable business climate, dense populations, and beautiful, sunny weather. Here is our list of the top five sports franchises to choose from in Georgia.
TGA Premier Sports  
TGA Premier Sports is a leader in youth sports programs. For over 20 years, TGA has built a reputation for developing young athletes, supporting communities, and creating future leaders through involvement in sports activities.
TGA offers a variety of after-school enrichment programs, seasonal and year-round camps, family events, competitive leagues and tournaments, and even virtual learning programs. All these channels allow access to established marketing and recruitment opportunities. And franchise owners can customize their businesses, choosing a mixture of programs based on each owner's business goals.  
Franchise owners also get in-person training and development, in-territory business development and sales training, access to an online hiring portal, a plethora of free resources, and dedicated peer support to help you every step of the way.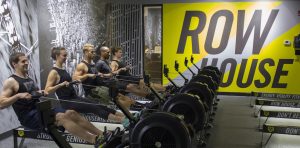 Row House  
Row House has been around since 2014, born from the belief that rowing is the most efficient, low-impact, full-body workout for any fitness level. They now operate more than 90 studios around the world and more than 300 licensed locations.
Row House has built success by operating a boutique fitness brand that caters to an underserved market. Franchise owners can enjoy low startup costs, strong margins, and access to a team with decades of fitness franchise experience.
Row House franchises get access to established national vendor relationships and a network of support starting from the very first day and continuing as far as you want to go. Plus, they allow for a semi-absentee model, which means you can hire someone to manage the studio for you while you enjoy other endeavors.
Stretch Labs
Stretch Labs is the leading assisted stretching brand in the world, offering customers one-on-one and group stretch services across all age and fitness level demographics. By harnessing the potential of the holistic fitness niche, Stretch Labs has established itself as a successful brand with numerous and varied opportunities for interested franchise buyers.
Stretch Labs operates more than 200 studios across North America, and over 700 locations globally, making it the largest assisted stretching brand in the market. This award-winning franchise model offers low entry costs and a structure that can be customized to both wellness and fitness boutiques. It promotes a product that is embedded in the psyche of the fitness industry. Take advantage of that semi-absentee model here as well, along with structured support for every step of your entrepreneurial journey.
Alloy Personal Training
Alloy Personal Training was created in 1992 and has decades of experience and proven success with its business model of personalized fitness coaching. Alloy programs are among the most effective programs in the world for helping people look and feel their absolute best, especially those in the 50 and older demographic.
The Alloy program was created by a team of physiologists, therapists, dieticians, and behavioral specialists, and is designed to meet the needs of society where cutting-edge science and technology meet real-life experiences.
Alloy franchise owners enjoy a customizable business model, including optimal coach-to-client ratios, customized workout plans, tracking tools, flexible membership options, and more. They boast some of the highest revenue per member and member retention rates in the industry. Training systems are individualized, meaning Alloy attracts the right kind of consumer with a disposable income to afford premium fitness services.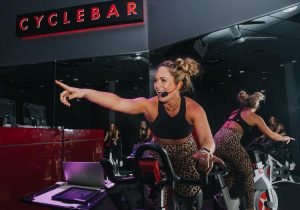 CycleBar  
For almost twenty years, CycleBar has been offering low-impact, high-intensity indoor cycling workouts for people of all fitness levels. CycleBar is the largest indoor cycling brand, with more than 250 studios around the world. This award-winning brand has a proven record of growth and success, created in part by its ability to corner an established and dedicated customer base.
Cycling is an exercise industry that has been around for decades and is not going away any time soon. CycleBar takes the traditional cycle class and elevates it through an immersive, multi-sensory, community-focused experience, held in state-of-the-art theaters and led by specially trained instructors. Add in some pumping "Cycle Beats" playlists and rider-specific performance metrics, and you have a recipe for growth and success.
Franchise owners at CycleBar get a foothold into one of the biggest fitness markets in the world – one that has over 200,000 certified spin instructors in the U.S. alone, and 10,000 more joining the ranks every year. And CycleBar stands alone in its market, with little to no competitors offering a similar product. Owners get one-on-one support from conception to realization, and beyond, as well as a week-long training session to ensure their success from day one.
Conclusion
Franchise businesses are an excellent way to get your dream of business ownership up and running as quickly as possible. And because you will be aligning yourself with an established brand, you will have greater chances of success in the long run. 
The product is already there. The customers are already there. The support is already there. All you have to do is take the reins and run!
---
The Atlanta Small Business Network, from start-up to success, we are your go-to resource for small business news, expert advice, information, and event coverage.
While you're here, don't forget to subscribe to our email newsletter for all the latest business news know-how from Atlanta Small Business Network.